Each day working as the conservation research and documentation intern for the Bornean Sun Bear Conservation Centre is an opportunity to assist in a variety of tasks and projects that are necessary for the Centre to exist and function properly.  On any given day these tasks may include one, or many, of the following: animal welfare, rehabilitation, research, outreach and communication, behavioral observation and documentation, grant proposals, or other funding acquisition, as well as, environmental education for the local community. Working at the BSBCC provides me with the opportunity to 'get my hands dirty' in many of the aspects that make up wildlife conservation work!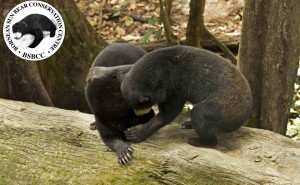 A significant portion of my time is spent observing the sun bears in their forest enclosure and  documenting their behaviors through photography, video and writing. Documentation such as this is pertinent to sun bear conservation because daily observations of sun bears in this forest environment provides unique substance for preliminary research and quantitative data collection. Regular access to the forest is a critical aspect of their rehabilitation that allows them to regain natural instincts, enhance their skills and senses, and generally promote healthy bear behavior in their native habitat. The opportunity to observe sun bears during their rehabilitation process, in this way, is unique to the world, so it is quite extraordinary to observe them exhibit such a wide range of fascinating behaviors that remain open for investigation.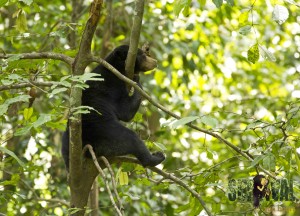 Along with developing a cache of behavioral documentation for future study, I am also creating an archive of  imagery that can be used for many educational programs and awareness projects. One such project I have been assisting with is the educational walkway that is being built for the new visitor centre.  Emphasizing the crucial pertinence of environmental education in conservation work, the BSBCC is crafting educational signboards to be erected along the path that visitors will take to see the bears.  The visitor Centre is proposed to be opening early next year (2014) with the purpose of bringing sun bear awareness and education to the people of Sabah (and beyond!) Creating content and assisting in the design for this educational display is just one of the many projects I am happy to add to my busy bear schedule.